The Lonely Forest
- Surprisingly, this band's name has not been used by some obscure psychedelic folk group from Northumberland. Instead, it is used by a twin guitar four-piece indie rock band from Anacortes, Washington. Their first song had a strong Decemberists feel to it with vocal phrasings similar to that of Colin Meloy. They kind of went into a Shins style thereafter. And the songs were quite catchy with a nice pop-rock sensibility. The key was the delivery was full of enthusiasm, making for an engaging half-hour set. Pretty hard not to like this sort of opening set, at almost any indie show these days. Can they break out? A tour like this will certainly help their cause.
Mona
- Another four-piece that is also on this package tour hits the stage for their half-hour set. Fortunately, they also had both a sympathetic sound for this tour and a quality present that made for another enjoyable set. The crowd had really picked up by now and it was going to be a crowded night. This band started a bit slowly and had some awkward endings, but by the third song or so, they really got into a good driving rhythm. There was a tad more British styled pop-rock in the approach with a ringing guitar that reminded me of the Buzzcocks playing in this interesting manner during the verses of one song. The energy eventually built in the band and in the crowd and a good time was had by most. A little tightening and better stage patter (true for both openers) will go a long way here. The foundation is good.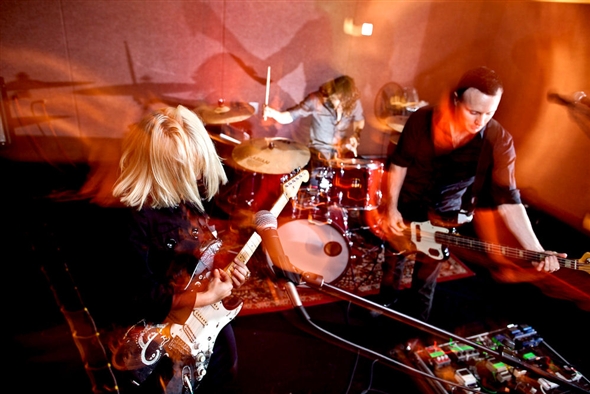 The Joy Formidable
- There is considerable buzz about this band and from what I gather, they did nothing to hurt that at SXSW. I had other choices tonight, but I thought I would head to the Black Cat to see whether I would be catching rising stars or simply the latest hot band that I would be seeing five years later at the same club with a smaller audience. It did not take me for than a few minutes to decide that I was seeing the former. This Welsh trio came in with a wonderful faded-in sound where the volume slowly built into a churning post-punk roar. Yes, their album is "The Big Roar" which is a fair enough description of what I heard. What was really great, was that the vocal lines were dazzling sixties pop, but the music was filtered through a 1980 Manchester sound. The magical synapse of where catchy pop meets creative art is a place I am always seeking. I don't find it often, but it was here tonight. They were adding some sounds to the mix and even had a synth sound going for a bit, but all the basic component parts were clear and powerful. They hit shoegaze thickness at times, while dropping back to percussion and rhythm section moves at others. The heavy jam at the close of the set gave me the same great feeling I had watching Kylesa rip it up a few nights earlier. A couple of songs for the encore and this crowded club went home happy. They will be selling out the 9:30 Club next time, if they are not too big for that. Bet on it.
Other writings... I have an article in the March edition of
Mortgage Banking Magazine
. Unfortunately you have to subscribe to read it. I am sure all my many, many fans will jump at this one chance to see what I have to say about the Program Fraud and Civil Remedies Act or how five false signatures cost an international bank over forty million dollars even when there was never any proven fraud of any of the thousands of mortgages ultimately involved. OK, maybe not, but this gig does help pay the bills.