Nathan Bowles +
Scott Verrastro
- The Fourth Annual Avant-Fairfax Festival begins with a couple of drummers that work together at times. Verrastro has long been apart of Kohoutek, Kuschty Rye Ergot and other local psyche outfits. They had full kits but showed a lot of deft percussion work and created nice sounds and even a touch of simple drum melody. Were that drum solos were good as this, and then we wouldn't have whining critics constantly complaining about them.
Cash Slave Clique
- Two guys with mysterious electronics unseen due to the large equipment cases they were housed in. OK, I could have walked around and looked and actually I did take a peak. But it is sometimes more fun just to take in the results rather than go behind the curtain, especially in the electronica world. The synth loops were on top of the rhythm sections and they had a lot of purpose with their pulsing bursts of sound. I kind of prefer the melody and controlled noise over the rhythm in these kind of sets, so these guys had it working for me. Catchy at times, challenging, but never too obtuse. Good set.
Drums Like Machine Guns
- So far, the festival is humming along at a blistering pace with two stages set up on different floors. All it has taken is a quick use of the stairs between sets and another band is ready to play. I am liking that. There were three guys here playing electronics, guitar and using a microphone. No drums and thankfully no machine guns. They were pretty much noise merchants displaying their wares. They chatted a bit and had a nice sense of humor about it all. Their noise had some interesting patterns amidst the feedback and dissonance and was not overly harsh, so it went well enough.
Frankzig
- We have a nice finger style guitarist here. He had touches of flamenco, folk and even a bit of rock in his acoustic mix. He had long songs and added some meditative vocals latter in the songs. It reminded me of a more grounded Robbie Basho, with a bit of Peter Lang and that Takoma style sound. Yet it was worldly in its feel and was really easy to get lost in. And that is one of the keys to simple acoustic music, having listeners fully involved. Based on the audience reaction, Frankzig was a success.
Fun - Two guys walked around the audience making wailing sounds like whining hedgehogs with the occasional exploding sound. Before they came to the front and uncloaked, I figured out that one of the sounds was balloons popping. Then, it became clear that all sounds were and would be balloon related. The two masked men proceeded to blow up balloons, pop them, release the air through pinched stems, use a helium tank, and then some. They stuffed balloons under their cloaks and did a few sumo moves to pop some more. I am not sure I can make this sound as good as it was. Ludicrous? Of course, but the humor was good and quite honestly, I thought the sounds created were better than many of the noise bands I am exposed to. Ultimately, this act lived up to its name.
Human Adult Band
- A couple of guitars and a drummer hit the stage. Perhaps it was the logo on the drummer's t-shirt that reminded me of Crass, but this band did have a serious anarcho-punk sound to it. There were grungey psyche elements and they varied the tempo a bit. There was not a whole lot of virtuosity present, but some good sounds emerged. It was getting a little too Lydia Lunch for me after a while, but they upped the tempo a bit and closed with something that rocked out a bit. Crassholes had fun.
Mutwawa
- Two masked, hooded and fully robed figures attach a table full of electronics and dish out a heavy dance set. Heavy drone beats dominated with noisy breaks and some white noise moves within. It was fine for what it was, and I am not the critic to figure out how this fits in to that genre (although these guys seemed sharp). One interesting note was that a different section of the audience was digging this more than myself and some of the other classic psychesters. But that is what is good about a festival--exposure to lots of different styles and genres. So far, so good today.
500mg
- This is a solo project of Michael Gibbons, the guitarist for the great band Bardo Pond (reviewed here a few weeks back). He began with some noise work on his pedal board before he strapped on his guitar. The sounds are reminiscent of Bardo Pond and are full, lush and quite moving. He lays down some very interesting rhythm loops and plays some lead runs on top of that. Scott Verrastro joins in half-way through with some bell ringing as he walks around the crowd and then adds some light to moderate kit work. I swore I heard some melodic guitar progressions that were similar to Meic Stevens "Ghost Town" and although they probably were close, I realize I also have famous UK guitarists on my mind tonight. But for now, this Philadelphia guitarist and local drummer did a great job and the crowd appreciated it.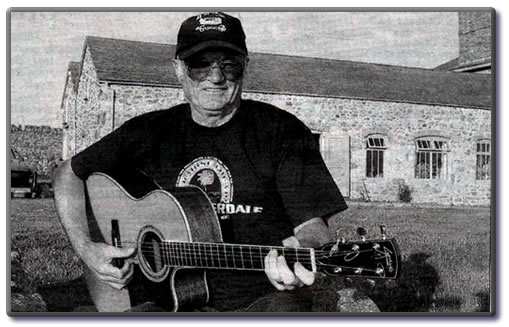 Michael Chapman
- I was excited to see one of the greats of the UK finger-style guitar scene finally after all these years. I actually own some of Chapman's test pressings that I acquired on the collector's market some years ago. And of course, I have loads of released vinyl and CDs of this eclectic performer. He is a bit similar to Roy Harper and John Martyn with all kinds of styles and an independent spirit to play whatever he wants. But tonight, it was a six-string guitar and voice. And that was plenty. I was amazed at how adept and skillful his playing was at 70 years of age. I did not detect any slippage and his ability to stir up emotion with deft, dynamic touches was astounding. I knew I would enjoy seeing him, but did not expect it to be at this high level. His finger picking, slide work, harmonics were all subtle but strong. He had that old deep bluesy voice of his and had a nice sense of humor as well. He had a funny story about "Fahey's Flag" and then added that it was a pastiche of John Fahey. "Pastiche is French for piss take". The room was overflowing with a very ecstatic crowd, some of which knew little of his history. But they knew great music when they heard it and it was going on here.
The Black Twigs
- aka The Black Twig Pickers. I saw these guys at Terrastock a few years back with Jack Rose. Sadly, Jack Rose is no longer with us but the three Black Twigs play on. They use guitar, a couple of banjos, violin and a washboard. They feature some singing along with the acoustic music they play. The music is traditional Appalachian folk and is quite good. Although not a fan of country music, I really love the Appalachian folk style and these guys have it down. They are playful with the songs and vary it around a bit. I liked the one song that I had seen a few years back where the banjo player picks up some thin sticks and plays drums on the violin strings as the violinist fingers and bows a tune. The set may have been a bit long for a festival, but that was ok by me. Although, it ended up being the last set for me.
Caves Caverns / Kohoutek - Unfortunately, the stage shifting broke down and they had to do a lengthy set up for Caves Caverns. I was waiting around, but then went up to the stage to see if they were ready. The stage was set but no band was in site. It was 12:30am and I had over a half hour drive back and a 20-minute playtime with my cat, so I had to call it a night. I reviewed Caves Caverns recently enough and they were decent. Kohoutek is always very good and I am sure they did a great job tonight. There will be another time (yeah I said that last time, too).
Aside from the slowdown at the end, the festival went very well and it was an outstanding line-up. I think they have established themselves as a part of the local government's arts festival and should be able to continue. With perhaps no more Terratocks (parts of three bands tonight appeared at the last Terrastock festival), a mini-version of that is sorely needed.