Lionize
- This is my first show in the reopened Howard Theatre which first greeted patrons in 1910. They did a magnificent job as it looks a bit like a combination of the Strathmore and the Fillmore. It is sold out tonight, but people are slowly wandering in as this Silver Spring quartet gets things underway as the curtain rises. I was not expecting much, but these guys actually did quite well. The rhythm section did what was expected while the guitarist singer sounded a bit like Leslie West in the vocal area, but kept the guitar work more simple and riff oriented. He played a mix of rock, blues, and maybe a touch of R&B. The real gem was the keyboard work which had the Leslie organ sound and a bit of electric piano. He had great skill and had several interpretive moments that provided an eerie backdrop or a punchy counterpoint. A good enough beginning warmly received.
GZA
- Next up is the founding member of the Wu-Tang Clan, who presents a rap set. There is a DJ who does not do a whole lot other than keep the preset sounds flowing. There is also a guy in the back who does not do much until GZA goes in the crowd and he follows as a bodyguard. The sound is muddled at first and there is a cavernous effect in this big hall that they will need to deal with over time. I don't pick up a lot of the dialogue here, but he maintains a brisk pace with plenty to say. He works the Bad Brains into a rap and some other fresh topics here and there. This was fine, but there was not enough musical variety for me. I agree with GZA's assessment... "this is practice for us".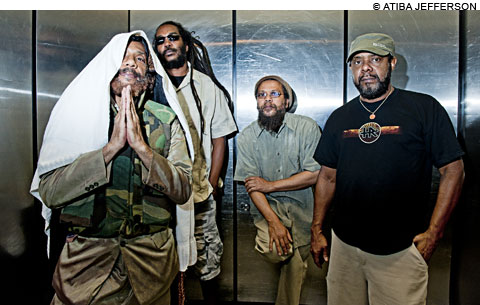 Bad Brains
- I pay to come to bury the Bad Brains, not to praise them. Sadly, no irony here. I could have gone to five shows tonight with three of them comped. But I bought my ticket to see the band that may have played the best show I have ever seen some 30 years ago, not with any expectations of that but a fascination as to whether they had anything left. A few years back, they played a disappointing show at the 9:30 Club where the band was hot, but HR was in la-la land and just smiled during the fast songs without singing (This time he mumbled half of the lyrics). My brother nailed it then by wondering if he was channeling Mr. Rogers with his inane chatter of learning lessons from songs with a beatific smile. I could not tell if there was any inane chatter tonight, as he was utterly incomprehensible all evening and quite dour in spirit. Daryl went to the mic a few times to rally the crowd, but mostly just smiled in the background at the trainwreck that was happening. Gary and Earl just did their jobs. HR, like fellow brainspace cohabitant Roky Erickson, had a guitar on for much of the set. Unlike Roky, he couldn't play anything worthwhile and it was not audible. HR looked like he wanted to keep Gary from playing some of the heavier songs and eventually the axemen left HR and Earl to do some HR tune. HR was aware enough to ask the soundman to turn his guitar on, but thankfully for us they didn't. Gary and Daryl rescued things by coming on early and starting another tune before the whole thing fell apart and they said their good nights. No encores, curtain down. Unlike the last show, even the three instrumental players did not have quite the bite they used to have. They are still solid pros, but they I suspect they know that even if they can fool enough of the crowd, it is hard to be serious and motivated to do much more than the basics. Could be the last? Should be the last, but there is a second show here the next night... at least it's scheduled.
Set List: Attitude - Right Brigade - Sailin' On - The Regulator - Reggae cut - FVK? - I+I Survive - At the Movies - Re-Ignition - Pay to Cum - HR solo bit - I+I Survive? (I can't read my notes, either they played this twice or I have one of the titles garbled--trust me, this really does not matter).
ADDITIONAL NOTE: In the comments section, there is some reference to the previous DC show by the Bad Brains and
my review is linked here
.
Quote of the Night: From a guy near me... "Greatest band ever, man, greatest band ever!!!!!"